Simple, organic ingredients.  No preservatives. Dubbed Miracle Balm for its quick-relief, healing, and long-lasting qualities. Many have told us this is their everywhere, no-matter-what problem, "Go-To Balm".
Fortified with essential oils for anti-oxidant, anti-inflammatory, and counter irritant effects.  The all-natural ingredients provide a soothing moisture barrier in addition to calming the fires of cuts, cracks, and insect bites.
Use as an everyday skin moisturizer and after hand washing/sanitizing
No greasy residue
Soothes itchy and dry skin
Heals cuts, scrapes and more
Use as a soothing eczema cream
Natural eye makeup remover
Treats and prevents chafed skin
Protects nails, hands and feet
Trail and obstacle race tested
Athletes: The BEST for preventing blisters and chafing.
How to Use:
Apply a thin coat anywhere your skin needs moisture. A little goes a long way!  Your skin will feel smooth when rubbed in well (pro tip: if it feels greasy or tacky after rubbing in, you've used too much – try a bit less next time). 
All Natural & Organic Ingredients:
Beeswax, Extra Virgin Olive Oil, Extra Virgin Coconut Oil, Shea Butter, Vitamin E, Peppermint & Lavender Essential Oils.
Customer Reviews
Great product
I love this so much, I want to tell everyone , a little goes a long way. Great for elbows, feet, my dry cracked hands love it. It is not sticky not smelly simply great.
12/08/2021
Pat D.

United States
I had bought this when it was called Miracle Balm. No telling how long ago. Any way since I have had some injuries I used it. When I ran out I couldn't find it any more. So I bought Dr Doug's because it was similar. When I received it it was the same thing. I like it and it helps heel cuts.
09/04/2021
Anonymous

United States
The Real Definition of Dread
Dread is scraping the bottom of the jar of Dr. Doug's balm, while waiting for a shipment to arrive.
07/12/2021
Erica M.

United States
Amazing products!!!
This is a game changer. My soccer team played in a tournament last weekend and had 6 games over 3 days. Not a blister to be seen!! First time playing the tournament without blisters. I used the recovery balm and think that made the difference in being able to play 6 games without a lot of soreness. This will now be forever in my soccer bag.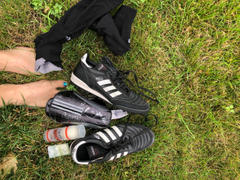 04/02/2021
Anonymous

United States
Gift
Gift for person experiencing radiation for breast cancer. Excellent results
03/20/2021
Anonymous

United States
Great product and customer service
No other product like this, amazing for dry/cracked hands. There was a small glitch with my order, I emailed them about it, they responded quickly and fixed the issue. Will absolutely order again.
03/15/2021
Anonymous

United States
Addicted ❤️
Love Dr Dougs Miracle Balms. Addicted to these products. Lip logic is amazing and the miracle balm is the best for keeping skin moist.
03/11/2021
Anonymous

United States
Great for dry skin!
One of the best products I've used to treat dry skin.
03/08/2021
Anonymous

United States
OMG!! Where has this been all my life??
This product is amazing! And to think it's made right here in Indiana. I suffer from several autoimmune diseases, one is Sjogren's syndrome. My skin is absolutely so dry and this miracle balm has made a huge difference! Thank you Dr Doug!!
01/14/2021
Anonymous

United States
Dr. Doug's Original Miracle Balm
Love it! This Balm has made such a positive difference in improving my skin...including softening my feet!!
01/09/2021
Anonymous

United States
Original Balm
Great! Helped to heal cracks in my fingers quickly. Also great for chapped lips!
10/25/2020
Chloe ..

United States
Overall, great experience!
The customer service was FANTASTIC. The people were soo helpful and kind. I bought the product for my 3 year old who has severe eczema to help replace prescription strength hydrocortisone. So far, it's been working great! The sticks are helpful to allow her to apply it by herself, which my independent toddler loves!
09/14/2020
Anonymous

United States
Love all your products!
Awesome. The products provide relief for my husbands Parsonage Turner syndrome back pain as well as my old nagging running niggles.
08/30/2020
Anonymous

United States
Dr. Dougs is amazing
Amazing balm. I would recommend it to anyone.
The BEST stuff to keep skin YOUNG!
I put this on my face and hands at night after a shower or a bath. In the morning, my skin is so soft. People often ask me how I stay looking so young. Dr. Doug's!
I love this stuff it
I love this stuff it really do helps with dry skin and on the back of your heals . Also not to greasy compare to other skin products for dry skin