Customer Reviews
03/08/2021
Review
Love it. My 2nd jar and it works!
Danielle P.

United States
01/27/2021
The Bomb of Balm's
I was in need of serious help. I had food poisoning & then weakness & migraine& nausea. With all that going on I was having withdrawl symtom's from Clonapazem. I was hurting. So my body was weak from food poisoning. That meant body aches all over. I spoke with a team member . In addition to that I recieved on fb a explanation of what Balm's help with my problems given by Dr.Melanie Kingley . I purchased the stress relief pkg. It came just in time. I just keep putting the Magnesium Balm on my temple's for migraine. I Just kept applying for two day's. For the nausea I kept the charcoal soap up to my nose to smell.The peppermint oil that is in the soap, took care of the problem? Charcoal soap was just a perfect solution to help stomach turning. I love that soap for my face too. My purchase was in this pretty straw like tissue in a black closed bag. It came in a box. So if I wanted to send to someone, I would pleased with the way it was presented to me. Lastley my symptoms were to last weeks. I am certain That I should be 100% by keeping these products by my side. Thank you Dr.Doug & team members! I would highly recommend, for the amazing relaxed feeling I am experiencing. Kimberly Bronisz
Kimberly B.

United States
01/23/2021
Go-to balm
The magnesium balm is good for aching or tight muscles; cold and tingling feet; or a good cure for rough dry skin. It's the perfect go-to balm.
Deirdre D.

United States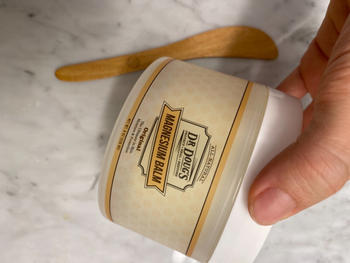 01/03/2021
In love! From
I LOVE it ! I definitely recommend if you live an active lifestyle and what something to help with relaxation. The texture is amazing and a little goes a long way. I use it at night or I put it before stretching. As a bonus it hydrated my skin like nothing else. It's not sticky and doesn't smell much, which I prefer. It was quickly delivered, even during the busy Holidays & covid. I had to pay import fees, but that wouldn't stop me from buying again. Unless they become available somewhere in Canada, which I would really love.
Virginie D.

Canada
12/28/2020
Great product, works well
I have used just about every product and they all work great!
Anonymous

United States